Houston, TX, 2021
Local Latino War Hero Macario Garcia Honored In New Mural
On Veteran's Day, a public artwork memorializing the decorated WWII hero will be unveiled at a ceremony in East End's Magnolia Park
Houston, Texas – A major mural honoring Staff Sergeant Macario Garcia is nearing completion, after years of community advocacy. Planned for the exterior of Houston Fire Department Station #20, the mural shows Garcia – a hero to Houston's Mexican-American community for his valor and service in World War II – flanked between the United States and Mexican flags. Garcia has the distinguishment of being the first Mexican national to be awarded the Medal of Honor, yet continued to suffer racial discrimination after his service to his country. He was also awarded the Purple Heart, the Bronze Star, and the Combat Infantryman's Badge by the U.S., as well as the medal of Mérito Militar in Mexico (the equivalent to the U.S. Medal of Honor).
This mural is significant because it brings his memory and story alive to new generations of people in the East End today."This really is an honor for our family. It has been 49 years since my dad's death on Christmas Eve 1972. And people are still honoring Dad for battles he fought in Europe and for becoming the first Mexican National to be Awarded the Medal of Honor in WWII and in Army History," said Carlos R. Garcia, Macario Garcia's eldest son. "From the family of S/SGT Macario Garcia we thank all who participated in this project and are grateful of this honor all of you have bestowed on Dad."
UP Art Studio, a public art and placemaking firm whose principals have roots in Mexico, initiated, fundraised, and developed the project over a three-year period, working in collaboration with multiple community partners. The firm has coordinated the execution of this mural as a proposed gift of artwork to the City of Houston. Once officially accepted as a gift by Houston City Council, the mural will be maintained by the Houston Fire Department as part of the City of Houston's Civic Art Collection.
The artist selected for the project, Mez Data, is known for his ability to create realistic portraits with aerosol paint. A local veteran from the neighborhood, Luis C. Gonzales, will be working as an assistant to the artist. Mez Data previously painted an image of Garcia on a Mini Mural nearby; however the traffic signal control cabinet was damaged in a car accident. The Mini Mural was able to be preserved and later repurposed as an outdoor public art piece now on display at Stanaker Library at 611 S Sgt Macario Garcia Dr.
Media Event: Veteran's Day Unveiling Ceremony
Date and Time: Thursday, November 11, 2021, 3:00 to 4:30 p.m.
Location: Fire Station #20, 6902 Navigation Blvd. at 69th Street (at a location where the City Council re-named the street "Staff Sgt. Macario Garcia Dr.")
Program: Representatives of the project, elected officials, and partners & sponsors will speak and be available for interviews. The artist and the assisting veteran will also be present.
Social Media: @upartstudio #HeroesIconsMurals
Advance Coverage: Photography and video of the artist working onsite, as well as advance interviews, can be arranged starting on Nov. 2 by contacting UP Art Studio.
Interview Opportunities
UP Art Studio – Elia & Noah Quiles: Project story about the artwork and the journey to seeing it realized
Artist: Mez Data
Mayor's Office of Cultural Affairs Representative: Theresa Escobedo, Civic Art Program Manager
Houston Fire Department Representative: Chief Ruy Lozano
Garcia Family: Family members plan to attend the ceremony
Project Information
Artist: Blake Bermel ("Mez Data")
Site: Fire Station #20, 6902 Navigation Blvd, Houston, TX 77011
Project Manager: UP Art Studio
Key Partners:
Mayor's Office of Cultural Affairs, Mayor's Office of Veteran Affairs, City of Houston
Houston Fire Department
Fire Station #20 – mural site
Funding Sponsors:
Harrisburg Redevelopment Authority (TIRZ #23)
East End District (Management District)
East End Improvement Corporation
Council Member Robert Gallegos, District I
Project Background
UP Art Studio worked for over 3 years to bring this project to fruition, working through a complex landscape of approvals, partners, and ownership. They conceived this project, as part of larger Heroes + Icons mural series, and are providing full project management services, from fundraising through installation.
Rendering of Mural by artist Mez Data (Rendering submitted prior to initiation of painting)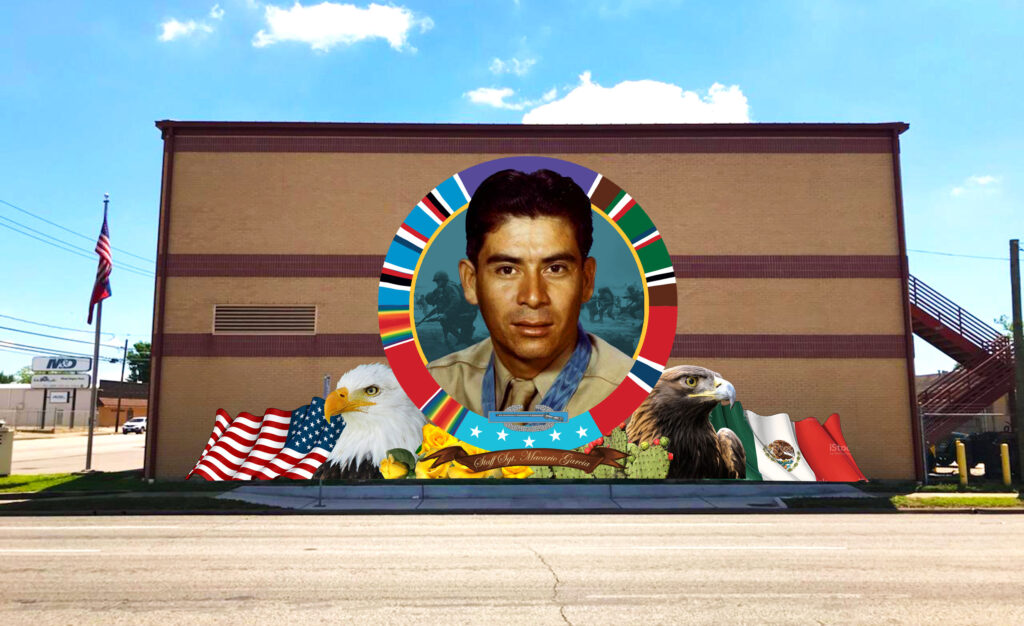 About Staff Sgt. Macario Garcia
Macario Garcia grew up in a Mexican-American farmworker family in the Houston area. He was drafted in 1942 during WWII and wounded in action at Normandy in June 1944. García recovered, and then distinguished himself with heroism on the battlefield, for which he was awarded the Medal of Honor in 1945. García also was awarded the Purple Heart, the Bronze Star, and the Combat Infantryman's Badge. As a citizen of Mexico, he also was awarded the medal of Mérito Militar in Mexico City.
In September 1945, shortly after his return to Texas, García was denied service at a restaurant because he was Hispanic. He actively objected to being treated as a second-class citizen, after having risked his life for his country. He was arrested. His case attracted significant public and media attention, becoming an important symbol of the unjust discrimination experienced by Hispanic soldiers after they returned from the war (and by the Hispanic community as a whole). In 1947, García became an American citizen. He enjoyed a long career of further public service as a counselor in the Veterans' Administration, helping other veterans for 25 years. García died in 1972; he is buried in the National Cemetery in Houston.